OFFSHORE CRANE OPERATOR STAGE 2 RE-ASSESSMENT – BS7121 PART 11
AIMS AND OUTCOMES
The Stage 2 Offshore Crane Operator Re-Assessment course aims to give participants the knowledge required to continue to operate an offshore crane in a safe and efficient manner. This is achieved using a bank of scenarios on the offshore crane simulator or offshore crane by demonstrating experience with offshore deck lifts in an offshore environment.
The Stage 2 Offshore Crane Operator Re-Assessment course is used to assess the continued competence of offshore crane operators. BS 7121 Part 11 states that an offshore crane operators' competence should be
re-assessed every 2 years. Use of an offshore crane simulation exercises play a part in complying with this standard.
PERFORMANCE CRITERIA
Plan work
Crane pre operational checks and maintenance
Wire rope inspection and care
Safe rigging practices and Rigging calculations
Offshore crane safety devices and Dynamic Factors
Safe working loads and load safety indicators
Conduct Deck lifts using a Crane or Use of an offshore crane simulator
COURSE CONTENT
Review of prevailing legislation, regulations and standards
Understanding of crane and installation safety systems and devices
Emergency operating procedures
Machine awareness and safe areas for crane operation
Ability to work with a Banksman and/or Riggers
Radio procedures
Pre-use checks, Inspection Routines and crane maintenance
Operational controls ability and attitude towards safe operations
Crane load charts and safety equipment
CERTIFICATION
Offshore Crane Operator Stage 2 certificate of re-assessment is issued to conduct all deck lifts.
Certification is issued in accordance with BS 7121 Part 11 upon successful completion and is valid for 2 years from date of issue.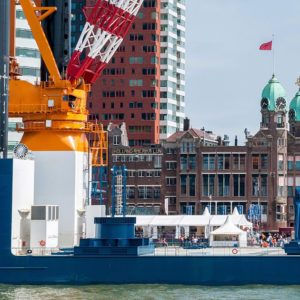 Overview:
PRE-REQUISITIES
Offshore Crane Operator Stage 2
Logged hours and documented evidence of offshore deck lifts
DURATION
1 Day
MAXIMUM PARTICIPANTS
6 Persons