RIIHAN305D – OPERATE A GANTRY OR OVERHEAD CRANE
AIMS AND OUTCOMES
This course is designed to ensure that participants have the skills and knowledge required to operate a gantry or overhead crane and is appropriate for those working in operational roles undertaking work with and around overhead cranes in the workplace and includes both theory and practical components, with participants undertaking practical exercises to ensure familiarity with procedures, equipment and safety systems.
PERFORMANCE CRITERIA
Plan and prepare for conducting lifting operations
Understand crane capacities and limitations
Read and Interpret manuals, range diagrams and load charts
Confirm load weights and interpret lifting signals from dogman
Operate crane in a smooth and competent manner
Transfer loads
Perform daily pre operational checks
Conduct maintenance and identify faults
Understand all procedures with lifting of loads in the workplace
Shutdown crane and clean up
COURSE CONTENT
Locates and applies relevant documentation, policies and procedures
Apply risk assessment and hazard control strategies
Use and interpret crane manufacturer's specifications and data,
Verify problems and equipment faults and demonstrate appropriate response procedures
Appropriate mathematical procedures for estimation of loads
WHS legislation, standards and codes of practice
Understanding of the hierarchy of hazard identification and control
Organisational and workplace standards, requirements, policies and procedures
Overhead or Gantry crane characteristics and capabilities
Procedures for the recording, reporting and maintenance of workplace records and information
Rated capacity and working load limits
Typical routine problems encountered in the operation of the crane and equipment and adjustments required for correction
Theoretical and Practical Assessments
CERTIFICATION
We provide Nationally Recognised Training under a Third-Party Arrangement with Site Skills Training (RTO Provider No. 32531). Site Skills Training will be the issuing RTO for all Statements of Attainment associated with the nationally recognised VET courses listed in the agreement, and concurrently displayed on the ATC Offshore website.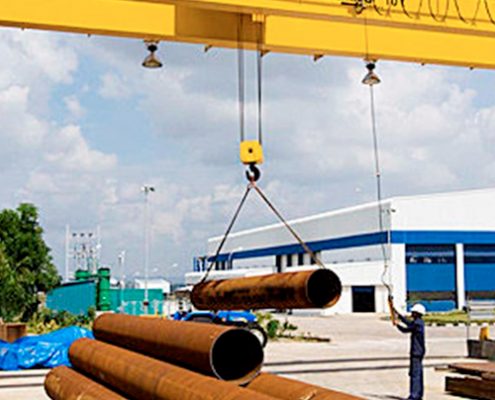 Overview:
PRE-REQUISITIES
There are no pre-requisites for this course
DURATION
1 Day
MAXIMUM PARTICIPANTS
8 Persons