PMASUP305 – OPERATE OFFSHORE CRANES
AIMS AND OUTCOMES
This course is designed to ensure that participants with the necessary skills and knowledge to operate an offshore crane safely and efficiently. An offshore crane may include various crane classes temporarily or permanently mounted to a vessel, FPSO, MODU, fixed platforms, dive vessels, FSU's and barges or similar.
The offshore crane operator training course is based on competencies within the Australian Qualification Framework (AQF); Legislation in the Workplace – AS 2550.1 Safe use of Cranes; NORSOK Standard R-003 – Safe use of lifting equipment; Offshore Petroleum Act 2006; IMCA Standards and Guidance notes
This training is recommended by the National Offshore Petroleum Safety Environment Management Authority (NOPSEMA) in the Australian offshore petroleum environment.
PERFORMANCE CRITERIA
Input data and use of Load Safety Indicator Functions
Interpretation of Crane Capacity Charts and Manuals
Identify sea state and adverse weather conditions
Perform pre-operational and shutdown procedures
Safely control the crane during lifting operations
Demonstrate the ability to remove load swing
Safely conduct a series of Dynamic lifts and Blind lifts
COURSE CONTENT
Adherence to statutory and regulatory authority requirements and company procedures
Verify problems and equipment faults and demonstrate appropriate response procedures
Appropriate mathematical procedures for estimation and measurement of loads
Apply risk assessment and hazard control strategies
Locate and apply relevant documentation, policies and procedures
Establish and maintain communications with bridge, vessels and rigging crews
Use and interpret crane manufacturer's specifications and data, including load charts, to enable the crane to be configured for the correct sea-state and specific load characteristics
Transfer of personnel between the facility and another vessel using appropriate approved equipment
Safe management of loads during diving operations and subsea operations
Heave compensation, passive, active and overload protection systems
Theoretical and final practical assessment is to be conducted with an offshore crane or simulator
CERTIFICATION
A Statement of Attainment and Notice of Assessment will be issued upon successful completion in accordance with RTO partnership agreement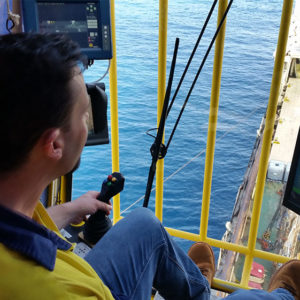 Overview:
PRE-REQUISTES
There are no pre-requisites for this course
DURATION
5 Days or 3 Days for experienced operators (RPL) or Refresher
MAXIMUM PARTICIPANTS
6 Persons