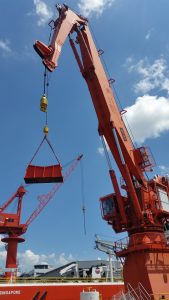 ATC is now running scheduled Offshore Crane Courses in Singapore, where we have access to state-of-the-art Huisman Subsea Knuckle Boom Cranes!
This a unique opportunity for students to learn on a REAL Offshore Crane in a real working environment in the Singapore port.
Why learn on a simulator when you can learn on the real thing!
Our Offshore Crane Operator & Crane Inspections courses run over 5-Days, where we instil confidence, knowledge and the skills in our students so they walk away with peace of mind knowing they can Operate or Inspect Offshore Cranes.
See below for copy of our Singapore Course Schedule and Flyer. Call or email us for more information!
CLICK HERE>>>> ATC Singapore Course Schedule 2018